RENT A
Scooter, Quad or Buggy -Brač Island
Delivery to all places on Brač. Free booking. Free cancelation. Paying at delivery. The best way to explore the island of Brac. Enjoy the nature and the scent of the sea.
BOOK
Safari Tour
Adventure that you need to try
Guided tour. Quad or Buggy or Buggy for 4 adventure is your decision. Book now.
Book now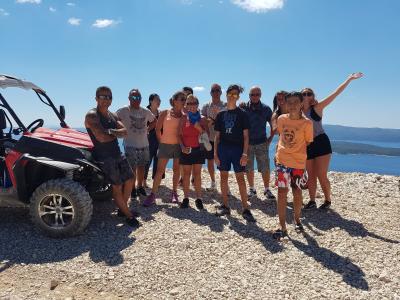 RENT A SCOOTER, RENT A QUAD, RENT A BUGGY 
in Bol, rent in Supetar, rent in Milna, rent in Postira, rent from all places in island Brac, Croatia
*ONE CLICK ON THE PHOTO TO RENT A SCOOTER, RENT A QUAD, RENT A BUGGY and start your Brač island tour*
RENT A
Rent a scooter, Rent a quad / ATV, Rent a buggy / UTV in Brač island. No prepayment needed. Payment when you come to pick up the vehicle or at delivery. Free booking and cancellation. Rent a scooter in Supetar, Bol, Milna, Postira, Sumartin, Pučišća, Povlja or anywhere and else in the island Brač. Check the offer of our vehicles. Contact us for all the additional informations. Our rental office is situated in Bol island Brač, Croatia. The vehicles are delivered to all places on the island of Brač. The perfect way to explore the island Brač is by quad, buggy or scooter.
Our vehicles
SAFARI
We organize Quad and Buggy Safari guided tours at Brač island . Buggy for 4 is ideal for you and your family. Enjoy idyllic ride to the island of Brac. Bring your family, friends or join yourself to our group. Our tours are perfect outdoor activity and one of things you need to do at island Brač. Don't miss one of the biggest Crotia attraction - Zlatni rat Beach (Golden Horn) from the top of the Vidova Gora Mountain.
Book now
GALLERY
Here you can see photos of our fleet and photos takes during safari tours.
SEE PHOTOS
CONTACT US
If you have any question, want to know more about our services or just want to ask something, contact us. We will be happy to answer at all your questions.
*Bol, Island Brač, Ulica Vladimira Nazora 26     HOW TO FIND US 
*email: rentalbrac@gmail.com
*mobile: +385959036430 (call, whatsapp, viber ) - service at road / informations / booking  
*mobile: +385996953354 (SMS, whatsapp, viber, call) - Booking / informations/ rezervations /                                               cancelation/ all you want to know